Raptors use depth, experience to push aside Wiggins' Timberwolves
TORONTO – Steve Nash retired from the NBA two seasons ago and for the moment the 'face of Canadian basketball' position remains vacant.
For a while it seemed pre-ordained: Andrew Wiggins would assume the mantle from the greatest Canadian that ever played.
But in his third NBA season, Wiggins still seems like he's in no rush to take up any causes other than trying to help the Minnesota Timberwolves make the jump from talented losers to one of the league's up-and-coming teams.
There's still a ways to go on that front as his Timberwolves fell 121-110 to the Toronto Raptors on Thursday, dropping them to 6-16 on the season. It's certainly a disappointing start for a team some thought might get to the post-season for the first time in 12 seasons.
The win improved the Raptors to 15-7 and was fuelled by another remarkable outing from Kyle Lowry, who needed just 14 shots to score 25 points while adding 11 assists, while DeMar DeRozan overcame a slow start to chip in 27.
They looked every inch the poised veterans taking on the young kids at the gym and comfortably holding them off yet again.
The Raptors offence was typically overwhelming – the league's second-rated attack is averaging 117 points a game over their past nine – but it was their fourth quarter defence that was the difference.
The Timberwolves shot 51.1 per cent for the game but just 39 per cent in the fourth quarter, where five turnovers led to nine Raptors points.
"We need to play connected in the fourth," said Wiggins after the T-Wolves were outscored 36-21 down the stretch. "We need to play off each other, that's what the Raptors do, they played off each other. They were on a string, extra passes, run you off the three."
Wiggins did his best to have an impact as he finished with 25 points in front of friends and family. He came out firing, connecting on his first five shot attempts including an impressive baseline dunk past Terrence Ross that gave him 11 points in the first nine minutes of the game. It was a big reason Minnesota was up by 10 midway through the second quarter. But Wiggins cooled off and the Raptors pulled back in it. DeMarre Carroll hit three triples in 90 seconds late in the first half to help Toronto head into the locker room tied at 59-59.
Typical. The Timberwolves came into the game at 6-15 but a first-half juggernaut – their +92 mark is fourth in the league. But they're a young team built around a trio of Wiggins, Karl-Anthony Towns and Zach LaVine who were all born in 1995. For all of their success to start games, they're also -128 in the second half on the season – 28th in the league.
"You notice [it] when you're on the court," Wiggins said before the game. "The ball stops moving, stops scoring and the other team is scoring."
Sort of like the second half in a game that fell short of the kind of homecoming Wiggins was hoping for. Trailing by one starting the fourth quarter, the Raptors slowly pulled away. Lowry's Steph Curry impression continued as he helped Toronto earn some daylight with a rare four-point play midway through the frame that Wiggins answered with a three of his own to keep Minnesota within range at 102-99. But a Wiggins turnover led to a Ross fast-break dunk and then consecutive threes by Lowry and Patrick Patterson pushed the Raptors lead to 12 with 4:47 left. The Timberwolves couldn't answer.
Wiggins had a nice outing but left the Air Canada Centre – an arena Nash dominated in his prime -- 0-3 in there in his career to date.
Signature moments have been few and far between for Wiggins, although it's sometimes easy to forget he's so young that there are almost surely many to come.
It just sometimes seems like Wiggins is perfectly comfortable pushing them down the road. Whether it's refusing to participate in the dunk contest at the All-Star Weekend in Toronto last winter or being slow at times to shoulder the load for Canada Basketball, Wiggins tends to leave you wanting a bit more.
Wiggins disappointed many when he chose to not to play for the national team this summer as they travelled to the Philippines for a last-chance qualifying tournament for a spot in the Olympics in Rio.
When Tristan Thompson of the Cleveland Cavaliers said his fellow Canadian NBAers should "step up and play" for Canada it was thought he was referring to Wiggins.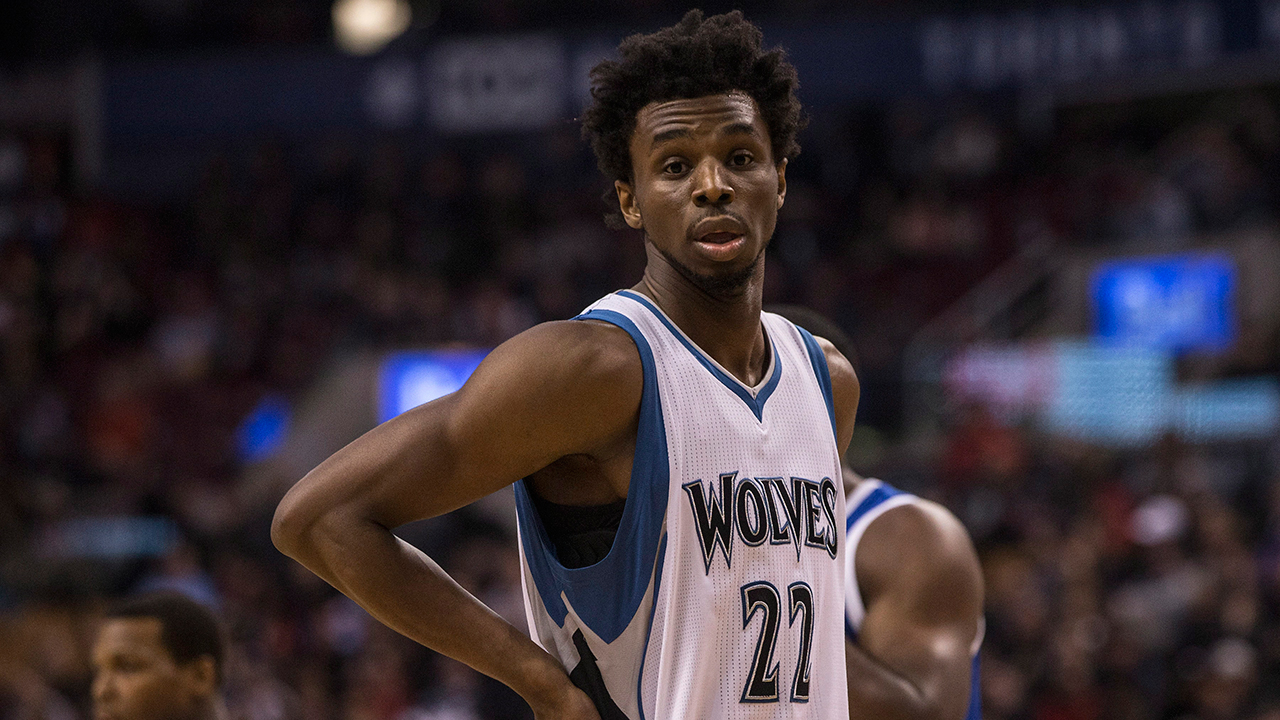 Wiggins came into Thursday's outing averaging 22 points per game (Chris Young/CP)
He wasn't the only one of Canada's top professionals to pass on the tournament, but nearly all of them could claim either contract uncertainty or injury, or in the case of Jamal Murray and Trey Lyles, NBA Summer League requests by their teams.
The exceptions were Nik Stauskas of the Philadelphia 76ers and Wiggins. Each of them begged off, citing the need to prepare for a pivotal third season. In Stauskas's case you could buy it – after two poor years his status in the league was hanging by a thread. Despite encouragement to play internationally from 76ers president Bryan Colangelo, Stauskas decided he'd be best served by several weeks of uninterrupted gym time.
Wiggins – coming off two solid seasons in Minnesota -- opted to stay home too, with sources saying his primary objection was the travel involved – first to Europe and then to the Philippines.
He was missed. "Yeah, sure [we missed him]," said Raptors point guard and national team stalwart Cory Joseph, who led Canada to the final where they lost their Olympic bid to France. "We need every piece. Of course it's always his decision and I don't get into all of that but we would love to have everybody."
To his credit, Wiggins used his time well, returning to the weight room at Vaughan Secondary to put in some grueling workouts with Seon Holmes, his personal trainer. "He was always early and never missed a day," said Holmes. "He pushed himself."
Wiggins' focus was on the future.
"[I was] just working on myself," he said. "My own game. Expanding my game. So I could come in this season and do the things I'm doing now."
He had the green light to play from incoming Timberwolves president and head coach Tom Thibodeau, a long-time assistant with USA Basketball and will going forward, it sounds like.
"I think it's great," said Thibodeau of the FIBA experience. "It's a real interesting experience because when all the players first come in, (it's) how quickly can we all adapt, that's your first challenge. And I think the other thing that it does is it prepares everyone for the upcoming season so when they come into the season they hit the ground running, they're ahead."
Wiggins hit the ground running in any case. Although the first quarter of his third NBA season has been marked by some inconsistencies – stretches of near dominance and periods where he flounders nearly side by side – the overall results are impressive. He came into his only Toronto visit averaging 22 points a game and shooting 38 per cent from the three-point line – both well above his career marks.
His latest visit to Toronto unfolded in familiar fashion. The deeper, more experienced Raptors were able to push aside the tantalizingly talented T-Wolves with some hard-earned steadiness while Minnesota's five fourth-quarter turnovers gave them the look of a young team not quite able to sort themselves out on the road.
Wiggins is right in the middle of it. He may yet emerge as the MVP-caliber player that his gifts suggest he could be; there is plenty of time and he's making progress. And he may yet be the face of the sport in a country where it's ascending. But there's time for that too.
"I'm still figuring it out," said Wiggins. "I'm only 21, I have a long way to go. A long way to go and every day I'm still learning."